Audi fan or not, the entire RS line has a reputation in the motorsports industry that is unrivaled as a comfortable sports car with substantial power at your control. This past week we had the pleasure of doing a ground up Unitronic Stage 2 build on this Ara Blue 2019 RS3. While most take on this feat through gradual upgrades, this example went from a bone stock model with a stage 1 tune, all the way to stage 2 in an incredibly short amount of time.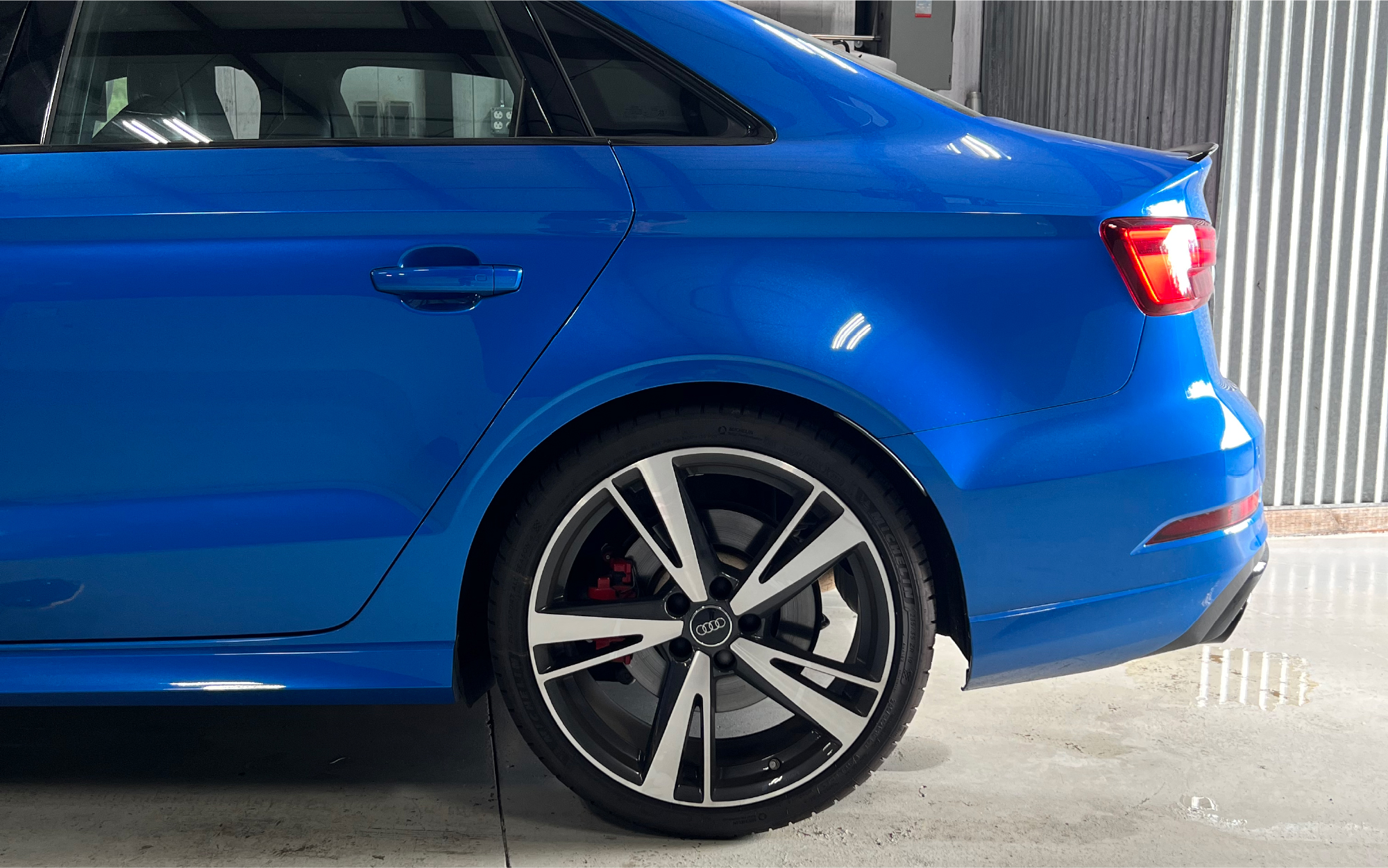 What does this mean though? Why is it such a large leap? Traditional stage 1 tunes can be flashed on an OEM car to unlock hidden factory power while still maintaining reliability across the board. To make the jump to stage 2, there is a lot that needs to be upgraded to facilitate that jump in power. Some stage 2 tunes require more than others but by standard measures you are looking at an upgraded intercooler, intake system, and a high flow catalytic converter.
For the RS3 to handle this up-rated tune, the owner decided to stay loyal to Unitronic and go all out, with the benefit of these parts being specifically designed to work hand and hand, and are the ideal products to partner with the Unitronic flash tune. All of these components are designed and tested to work together and communicate with OEM components for the best outcome.
If you were looking to do a similar build step by step, the clear first step is upgrading your intake. Even a stock car receives benefits from an upgraded intake, as it allows the engine to receive more air more efficiently. In this case the owner chose the larger 4" Unitronic Carbon Fiber Intake System over the 3" Unitronic Carbon Fiber Intake System. The larger diameter just means more flow and a better breathing system that can handle the needs of the stage 2 tune. This was paired with the Unitronic Intake Adapter and the Unitronic 4" Turbo Inlet Elbow to make sure there was no bottleneck in the airflow and to connect the massive intake appropriately to the turbo.

After the intake is taken care of, with any stage 2 tune, we need an up-rated intercooler like the Unitronic Intercooler Upgrade Kit, as you push more out of the engine the temperature of air is a vital component in making sure components do not fail or become prone to overheating or excessive wear. An up-rated intercooler ensures that the hot air coming out of the turbo is cooled before entering the cylinder heads.

Lastly, and the final thing required by almost every stage 2 build is a high flow catalytic converter. The catalytic converter restricts the exhaust coming out of the engine after combustion, and as we are asking it to make more power and breathe more efficiently, it needs to be able to breathe out at a higher rate just as it is breathing in. In a stock or stage 1 car, a high flow cat does not create the same back pressure as a stock cat, and will almost certainly throw a code in the car. The Unitronic Downpipe w/ Midpipes offers all the car needs and more. Like the turbo elbow serves the purpose of removing a possible bottleneck, the midpipes included in this kit remove the restrictive stock mid pipes allowing the exhaust to pass smoothly through the exhaust system without unnecessary restriction.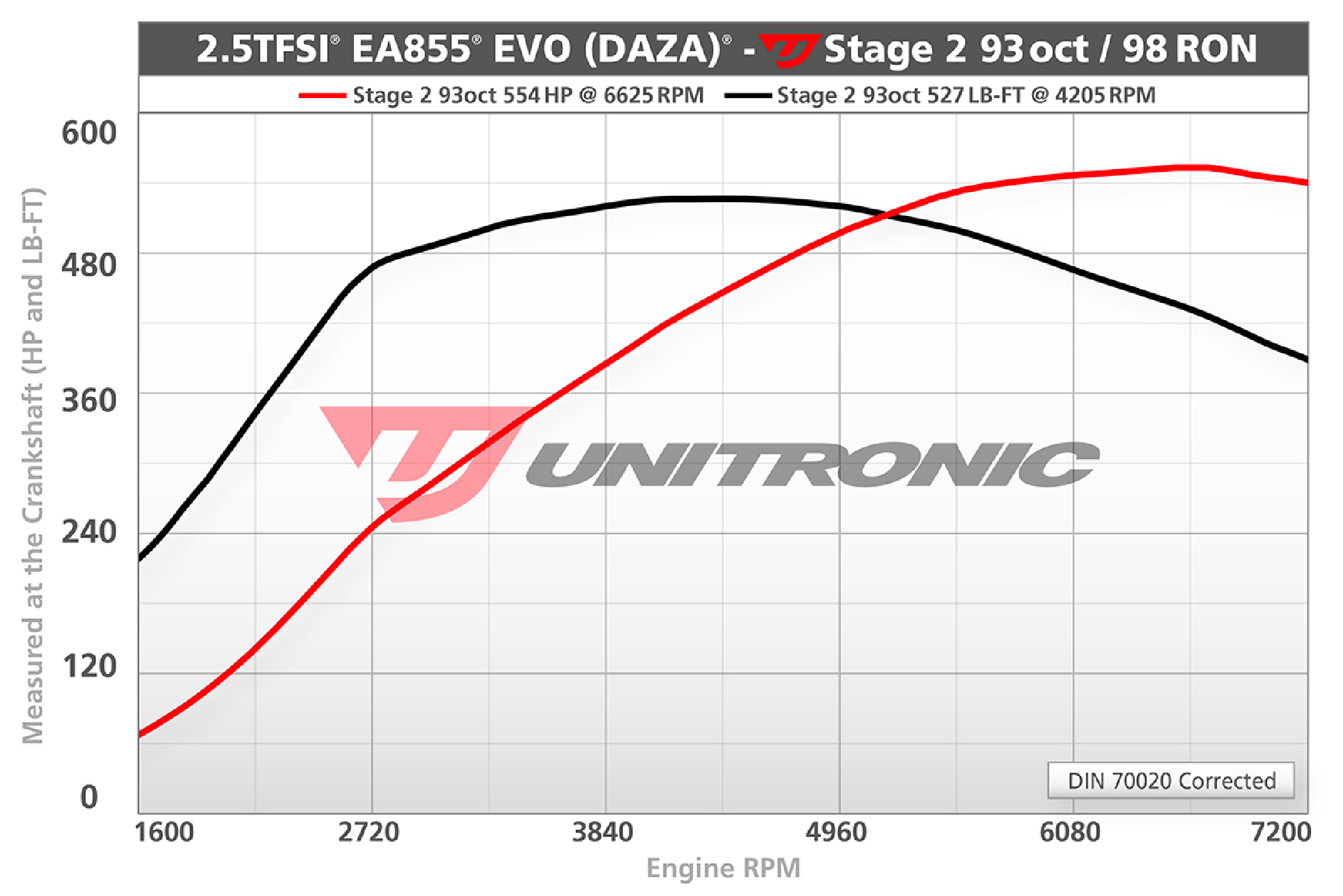 All together when paired with the tune, this RS3 is proudly putting out a quoted 554HP and 527LB-FT Torque, definitely numbers that are guaranteed to shock anyone, and put you in the seat under throttle. Our tech gave it a run to make sure everything was working properly before delivery, and came back smiling for the rest of the day.
If you are interested in something similar or want to work your way towards this level of build, email Sales@xlr8.com or give us a call to discuss options for your platform. We are here to help build it at your pace, and make sure you are getting the most smiles per gallon.