With over 30 years of innovative design and unparalleled manufacturing expertise, Scorpion produces high quality products that are engineered to the highest tolerances. Scorpion products use the latest technology and equipment to ensure the start to finish design, development, and manufacturing process is maintained to the same high quality that is expected when installing a product of this caliber. In addition to all of the above, Scorpion stands behind their products and offers a lifetime guarantee against manufacturing defects to the original purchaser. Check out what we have for your platform here.
Scorpion's involvement in numerous forms of high end motorsport over the years provides them with a rich heritage to fall back on when developing products, and allows them to provide true track to road technology. When you fit a Scorpion you know it will perform, and will carry with it the highest quality premium products available in today's market.
For the Scorpion team, producing exhausts isn't just a job, it's a passion and way of life. They have an amazing team of engineers, with fuel running through their veins so you can be assured of the love and attention that goes into the design and manufacturing of every product.

There are 2 main purposes of the exhaust system. 1) Let the waste gasses out of the engine. The more effectively you can get the exhaust gas out, the more air/fuel mix you can potentially get in. With the right exhaust you can make drastically more power. 2) To regulate the sound, which usually with a stock exhaust is muffled and flat. This is where Scorpion Redpower comes in with their range of performance exhausts which are designed and developed with the cutting edge technology and high quality materials previously mentioned.
The 2 main areas targeted for performance and power gains are the downpipe/header and behind the catalytic converter system, either will lead to improvements in performance and sound, so they can be changed in stages or all at once depending on your preference or budget.
Downpipe/Headers
The Scorpion team spends a lot of time working out and developing the most efficient way of releasing exhaust gasses for maximum performance. By utilizing a laser scanning machine and CNC mandrel tube bender, their products extract maximum performance within the constraints of your platform's engine bay. For non turbo engine cars it's about keeping the exhaust flowing quickly, and for turbo engined cars the priority is increasing the flow rate of the exhaust, which means using the largest diameter tube available that will fit within the space provided. We then come to the catalytic converter, which in stock exhausts is usually the highest point of restriction due to the dense honeycomb structure inside, built to filter out harmful exhaust substances, allowing your car to comply with emissions standards. Scorpion makes use of sport catalytic converters that will still pass an emission test but allow for increased gas flow and performance gains.

Cat back system
Usually the most popular performance upgrade, the cat back system can come in many different forms (resonated, non resonated, valved or non valved) and Scorpion has all your options covered. CNC Mandrel tube bending keeps the exhaust flowing without restriction and the silencers/mufflers are individually designed to suit each car's characteristics. The internal design of the silencer/muffler allows the exhaust to be acoustically tuned for the best sound without restricting exhaust flow or performance. Internally the silencer can be straight through or baffled depending on requirements. All Scorpion silencers/mufflers are produced using 304 stainless steel including the internals and are filled with continuous fiber E-glass. The E-glass Scorpion uses, has excellent heat and sound absorption properties and is proven to work in the most extreme environments of motorsport. At the back of the car the rear silencers are finished with premium quality tailpipes in various different designs and finishes including carbon fiber, mirror polished 304 stainless steel and black ceramic coated.
Cat back system resonated or non resonated
The resonated system is the perfect option for a user looking to subtly increase their vehicle's sound and performance. Retaining a resonator in the link pipe and the rear silencer, this system will suit someone who desires less cabin drone and a more subtle exhaust note. Non resonated exhaust systems will usually remove all resonators which reduce sound volume, but will retain the rear silencer. This will offer a louder, more distinctive tone. The non-resonated cat-back exhaust system also offers some additional weight saving, by replacing the resonator with a straight pipe, which in some cases will help marginally with the exhaust flow.
Valve or non valved
Many newer OEM exhausts come fitted with exhaust valves as standard and these are mainly operated in the different drive modes of the car. Scorpion products give you the choice of maintaining or removing these valves.
Some believe that maintaining the valve(s) and having the option to open and shut them is the best of both worlds when upgrading your exhaust, allowing you to switch between subtle tones for everyday driving and the true Scorpion soundtrack. With the press of a button you can open the valves to release the raw engine notes and hear your exhaust sing.
Non valved options would be more suited to a pure motorsport environment or for those that want all out sound, all of the time.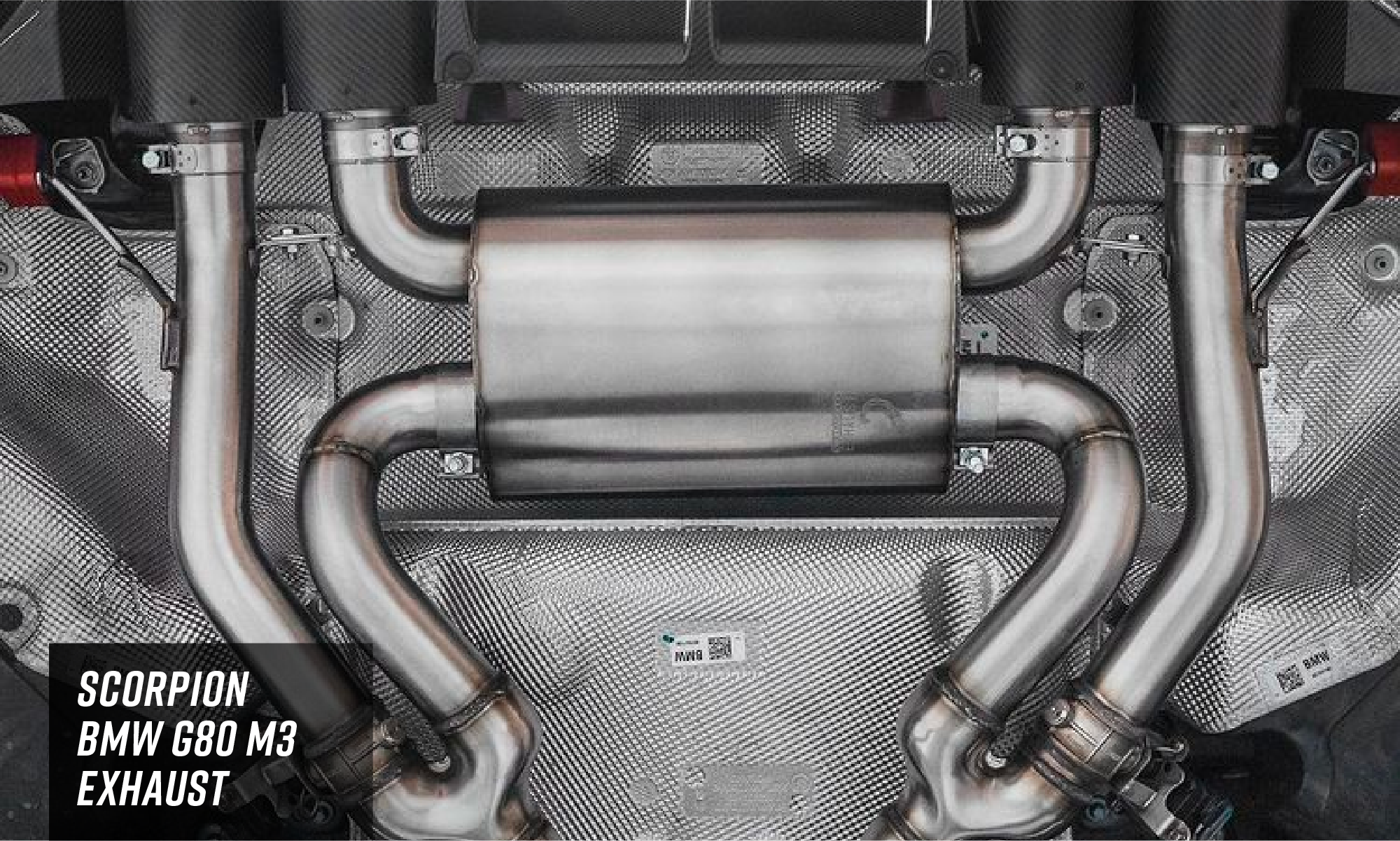 If you are upgrading your exhaust, we highly recommend a true enthusiast's brand like Scorpion. Built by enthusiasts, engineered to stir your soul. Find your's now.