Audi is known for its luxurious, performance sedans. But did you know that Audi produces some great cars for racing too? Let's talk about the most noteworthy Audi models that would kill it at the track:
Audi TT RS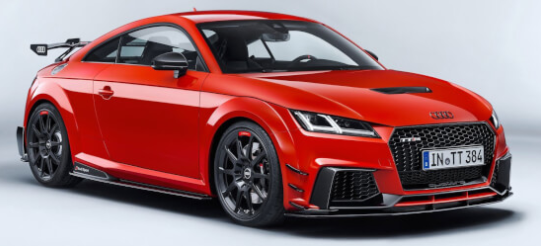 This model sports a turbocharged engine that has a power output of 400 hp and 354 lb-ft of torque. It can go 0-60 mph in a matter of 3.4 seconds. This car also has an impressive top speed of 174 mph on the track. Its handling on winding roads is great because of its quattro all-wheel drive system.
The Audi TT RS Roadster competes with the Cayman or a Corvette.
Audi R8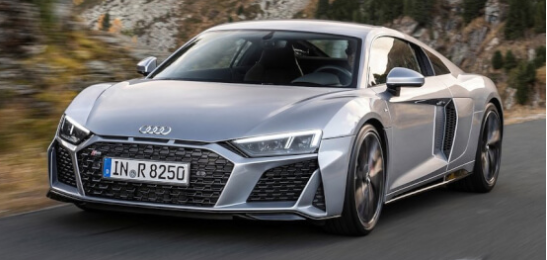 The Audi R8 supercar is every bit as impressive as it looks. It has won a variety of races, including multiple wins in the World Car Awards.
The car's 5.2-liter V10 engine can produce up to 602 horsepower. It takes only 3.2 seconds to go from 0-60 mph. When this baby hits its top speed of 205 mph on the track, it'll wow everyone because of its speed and attractive exterior. Its handling is next to none because of Audi's state-of-the-art quattro all-wheel drive system.
The quattro all-wheel-drive system mimics a rear-wheel-drive vehicle, but it can distribute up to 100 percent of available torque to the front axle, depending on how you drive. The system makes this possible with advanced technologies, such as:
The hydraulic multi-plate clutch that's electronically controlled
The addition of torque vectoring
The quattro integration within the Audi drive select system
Audi RS3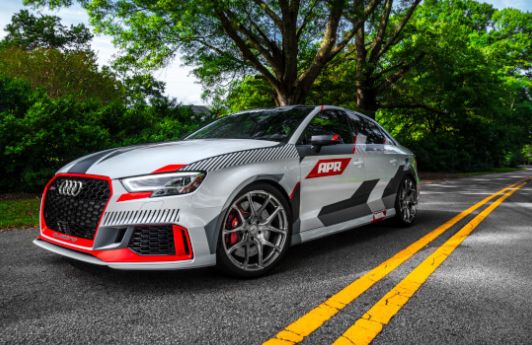 The Audi A3 and S3 are nice daily drivers. But the RS3 is in a different league. Audi overhauled the RS3 for 2022 with performance driving in mind. This car has a 2.5L TFSI 5-cylinder engine putting out 401 hp. The 2022 RS3 is new enough that nobody has been able to test it yet. But we have a few expectations:
0-60 will fall under 4 seconds.
Torque vectoring rear differential with a drift mode will be standard
dual-clutch automatic transmission and all-wheel drive will be standard
We would love to take the new and improved RS3 out for a spin!
Modding Your Audi To Boost Its Performance
An Audi is a great choice for a track car. There are several modifications that will take your Audi to the next level. The top mods you can make include:
Upgrading to a track quality brake system
Installing a downpipe and getting a high flow exhaust
Getting headers for your engine
Upgrading the suspension system
If you want to improve your Audi's handling, upgrade to a high quality suspension kit. Be sure to get one that's designed for your Audi model. MSS is a great brand. We only carry high quality parts, and MSS is a brand we trust. We carry a variety of MSS suspension kits for Audi cars. This one is one of our best sellers. Please contact us if you need help finding the right suspension kit (or another upgrade) for your Audi.